There are many ways you can support this ministry.
Financially: On Line – Checks – Cash
On line donations can be made with PayPal or your credit card.  Simply click the Donate button below and following instructions.                                     


Special Events: There are no Special Events scheduled at this time.


Checks can be made out to Wounded Warriors at Nebo or WWAN and mailed to Wounded Warriors at Nebo, P.O. Box 574, Fredericksburg, TX 78624

Checks and/or cash

may be dropped off at the Fredericksburg United Methodist Church office, 1800 N. Llano, Monday – Thursday 8am to 12 noon and 1pm to 5pm.
Guest House/B&B:  Donate the use of your guest house or B&B a couple of times a year for an R&R weekend.  
Couples and families find them much more relaxing than a hotel.                                                                              
Click Here to send our housing coordinator a message.
Volunteer:  There are many opportunities for volunteers. For example, Take pictures at an event, Provide a meal, Sponsor an event, be a guide-provide transportation for a warrior, take a soldier fishing, provide entertainment, etc.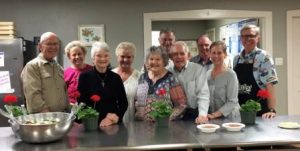 Volunteer Hosts Cooks
So whatever your gift contact us and give us your name, telephone number, email and what you would like to do. We can always use help.