Currently the ministry, with the help of the transition battalion chaplain, organizes and hosts five types of outings-R&R weekends, Retreats, Day Events and Couples in Crisis. These events are held from September through May.   Learn more about the Types of Events.

Soldiers Songs & Voices
September 15, 2022 @ 8:00 am

-

September 18, 2022 @ 5:00 pm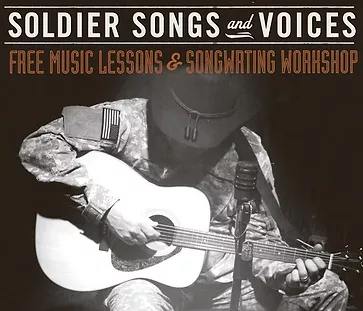 If you are a combat wounded veteran from any branch of the service or if you were deployed to a combat zone and are interested in participating in this event, let us know by contacting Elizabeth Fargason at (830) 998-3254 or efargason@outlook.com.  Space is limited to 15 participants and their spouses.
Wounded Warriors at Nebo is partnering with The Texas Heritage Music Foundation to provide a Soldiers Songs & Voices event where veterans who served in combat zones will work with professional song writers to create a song that tells their story.  "The Soldiers Songs & Voices, a non profit organization, has been helping veterans using the therapeutic modality of songwriting with the aftermath of combat duty since 2011."
Facilitators will arrive in Fredericksburg Thursday, September 15.  Participating veterans will arrive on Friday, September 16th.  Then on Saturday, September 17, the veterans and song writers will present their songs.
Currently the following musicians are scheduled as facilitators: Dustin Welch, George Ensle, Butch Hancock & Bernie Nelson.
Copied from SSV's website:  "Soldier Songs & Voices is a nonprofit organization that provides free instruments and songwriting lessons to veterans as a form of post-conflict care. Through music education and community-based outreach, we provide veterans with tools to turn their stories into songs so the nation can hear their voices. Our goal is to create communities that honor veterans of all generations.  We do not just support veterans–we invest in them."   Check out their website at  https://www.soldiersongsandvoices.com/ for more information and some of the songs they have helped other veterans write.
Remember, food and lodging cost you nothing!!
Food and lodging will be provided by Wounded Warriors at Nebo and Soldiers Songs and Voices.