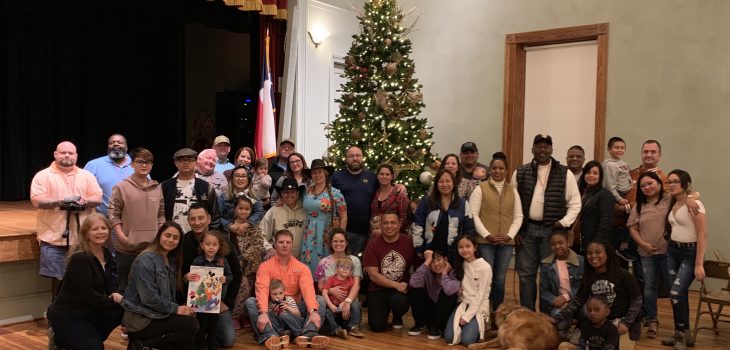 This is a family (whether your family is you or you and your spouse or includes children) weekend in Fredericksburg, TX . The event is open to active duty wounded, injured and ill warriors in treatment and/or transition and medically retired veterans.  Attendance is limited to 15 families.   Food and lodging will be provided by Wounded Warriors at Nebo, Memorial Presbyterian Church and the Catholic Daughters.
Couples will arrive in Fredericksburg on Friday afternoon, check into the Inn on Baron's Creek after 3pm and later meet dinner provided by Memorial Presbyterian Church.  A lighted Christmas Parade will immediately follow dinner.  Saturday there are no planned activities except for dinner at St. Joseph's Hall which will be hosted by the Catholic Daughters. Guests are free to explore Fredericksburg or just hang out until dinner time.
This is a fun family weekend where guests can enjoy the Christmas activities in Fredericksburg.  They will receive free access to many of the activities such as ice skating, Pioneer Museum, National Museum of the Pacific and more.   Guests are invited to  attend a local church of their choice.
This is a time to relax and spend quality time with your family.
Detailed information will be provided when they check into the hotel.
To sign up contact: Active Duty-your OIC or squad leader.  Medically Retired-Sharon Massey at sharonmassey27@gmail.com.