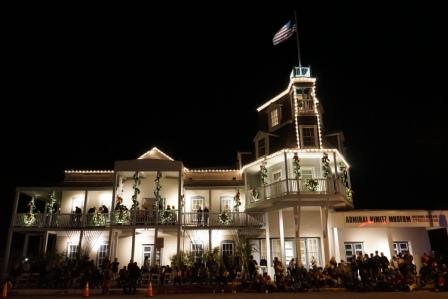 This is a weekend where guests can do as much or as little as they wish.  They arrive Friday afternoon and check into their lodging then meet for an early dinner.  Immediately following dinner everyone gathers on Main Street to watch the lighted parade.  After the parade those who wish may go to the after party, ice skating or just stroll main street enjoying the Christmas decorations.  Saturday they are on their own to explore the town and/or surrounding area, enjoy special events going on that weekend or just hang out.  Admission to the Museum of the Pacific War, Pioneer Museum and Fritztown Cinema will be provided to those interested.  Meals and lodging will be provided by Wounded Warriors at Nebo.  Check out from accommodations is 11 a.m.  A list of churches will be provided so guests can attend prior to returning to San Antonio if they wish.
Sign up is through the WTB Chaplain's office who will post a signup sheet about 2 weeks prior to the event.  This event is for wounded, injured and ill and their family or care provider; Singles, Couples and Families.  Family is defined as a Warrior, his/her spouse and children up to 18 yrs old living at home. Cadre and staff are not eligible for this event unless required as a care provider.  Questions may be directed to the Chaplain's office.
Specific details regarding lodging, meal times & location, etc will be provided to guests at a later date.