The weekend before Thanksgiving First Presbyterian Church, Kerrville, TX held their Alternative Gift Market. This type of 'Market' is where charities from around the world setup tables with information regarding their organization so those wishing to do so can make a contribution for a friend or loved one in lieu of a gift from Amazon, Walmart, etc. For example one organization digs wells to provide clean drinking water in poor countries. Some participants had tangible items you could purchase made by people whose only source of income comes from the sale of these items. One such organization had soy candles of various sizes and fragrances made by women who have been rescued from sex trafficking.
This was the second year that Wounded Warriors at Nebo has been invited to participate. Our 'Gifts' were: Spiritual Fitness $10; Care Giver Respite $25; Couples in Crisis $50; Family Christmas R&R $100.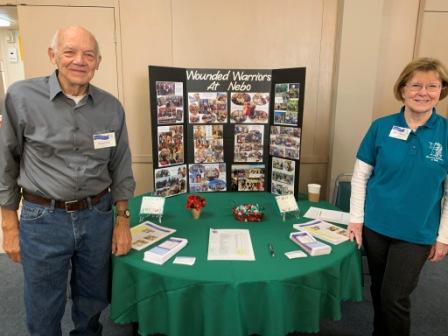 Obviously receiving the donations is wonderful and helps us to continue serving veterans both active duty and retired. However, every bit as important is raising the viability of the ministry. It is amazing how many local people have never heard of us and what we do.
So thank you, First Presbyterian Church for including us in your market and thank you to all of the generous people who purchased gifts.