We've all heard the statement "Good things come to those who wait".  That is exactly what happened to the Roberts Family.  They received a phone call from Homes For Heros requesting a meeting.  When they arrived at the meeting location in New Braunfels, they were greeted by a sign on a vacant lot that read "Future Home of the Roberts Family.  Needless to say they had questions.
While serving in the Gulf War and Afghanistan, J.D. Roberts sustained several injuries.  Shortly after returning home to his wife and three young children, he was T-Boned and lost a leg.  Considering the combination of war and accident injuries, they asked Tess' mother, Heidi, to move in with them to help with JD and the children.  Since then his health has deteriorated however that hasn't stopped him and Tess from reaching out to others struggling.  He has also given motivational speeches at schools and organizations such as Rotary International.  Needless to say the home they were buying when he left for the Gulf War isn't wheelchair friendly.  Seven years ago they completed a Homes for Heros application but had never heard from them – – – until now.
Construction on their new five bedroom home should be completed by December.  It will be designed to accommodate J.D.'s condition.
We are so happy and excited for J.D, Tess and the entire family.
God is Good!!!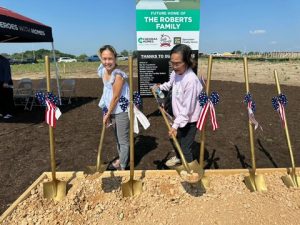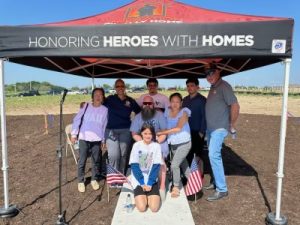 Roberts family and Homes for Heros representatives.                                                                                                                                                                                                                 Tess and Heidi (her mother) breaking ground